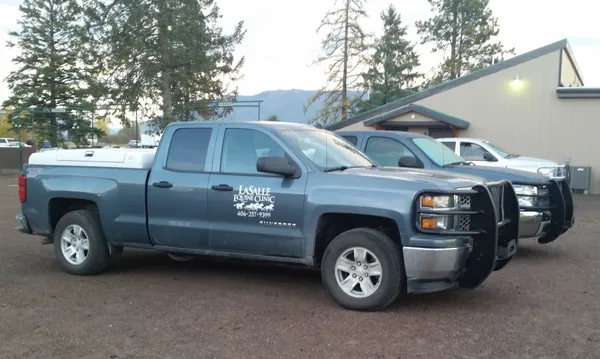 Our Ambulatory vehicles are designed and fully equipped to deliver routine field service and emergency care. The specially designed vet packs are heated to protect medication from freezing in the winter; they feature hot and cold running water and a refrigerator to properly store vaccines.
We encourage scheduling elective procedures well in advance so that our office is able to combine several appointments in an area to reduce travel fees by splitting charges between multiple farms.
Please realize some procedures and complex conditions cannot receive optimal care in the field. Our veterinarians and staff will assist you in determining when your horse's best interests are served by treatment in the hospital. We are fortunate to have a number of persons willing to transport horses to the hospital for those owners who do not have access to a trailer.
We make regular trips to the Libby/Troy area and Eureka. For our schedule in those areas call our office at 257-9399. To schedule an appointment in the Libby/Troy areas call our Libby Coordinator, Juanita Rose at 293-4862